On the surface, it would appear that the Buffalo Bills are one of the few NFL teams that Long Beach hasn't put its stamp on. Unlike most teams, which feature a Long Beach player as a major part of their history, the Bills only had one Long Beach player—Quentin Klenk, who started two games for them at tackle in 1946.
But a dusty old letter from the 1970s, written by NFL Properties vice president David Boss, reveals that, in fact, every Buffalo Bill to take the field in the last forty years has born a little piece of Long Beach with them. That's because in 1973, a McDonald-Douglas designer and Long Beach native named Stevens Wright took a freelance job with the NFL to re-make the Bills' logo.
For the previous four years, the Bills had worn an image of a standing bison, painted in red, with its head lowered, grazing on some unseen grass. At the time, NFL Properties was doing a lot of logo redesigns, part of an initiative put forth by Boss and Pete Rozelle to update the look of the NFL's franchises. Wright got the job through his wife, Jere, a Poly grad who was serving as the director of special projects for NFL Properties—and he went to work on it.
First, he added blue to the bright red, introducing the Bills' other color. Then, he took the sedentary Bison and sprung it into action, lifting its front hoofs off the ground so that it appears to be leaping forward, a streak of red coming back from its blue body. The movement was crucial, and appropriate—OJ Simpson had just finished his assault on the NFL single-season rushing record with a 2,003-yard campaign in 1973. Wright brought the energy of that year into his new logo, and when the 1974 season started, it was an instant hit.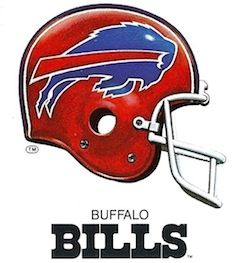 It has remained one for the last 39 years, with the upcoming season set to be the 40th consecutive year of football the Bills will play while bearing Wright's design. Only five franchises in the 32-team NFL have worn their logos for longer—the Chiefs, Vikings, Cowboys, Raiders, and Steelers, with Pittsburgh having worn theirs since 1963, longest of any team. Of course, at the time, there was no way to foresee the historic success of the design. Wright was compensated as a freelancer—his name isn't signed to his work, and he was paid four or five hundred dollars for the job, and that was the end of it.
His emotional attachment did not end there, however. That was obvious to anyone who attended his memorial service, after Wright passed away in March of this year. On the back of the program, beneath a brief message thanking those in attendance for enriching his life, is the Bills logo—alive, leaping into the future. "Oh, it meant the world to him," says his wife.
It wasn't Wright's only work for the NFL, however, just the only work that stuck. At one point when it looked like the 49ers might have to relocate following a spat with the San Francisco city government, he designed a 49ers logo without the "SF" in it. After weeks of back-and-forth tweaks, Wright finished a new logo for the Patriots. It was unveiled publicly in Boston, to a less than enthusiastic fan reaction.
"They put it on a great big huge thing in front of the fans," remembers Jere, who watched the unveiling on television with Stevens. "They did it publicly so the fans could go, 'Oh yay.' But they didn't go, 'Oh yay' a bit! They booed as loud as they could." And Wright's logo went back in the drawer, never seeing the field.
He and his wife were both avid football fans, who would often tease each other about their rival Long Beach schools (Stevens graduated from Wilson, Jere from Poly). They were an old-school Long Beach couple, with plenty of ties to the local football scene. Jere attended Poly with legendary football coach Dave Levy, who she and Stevens later visited with before a game Levy coached with the Lions. Jerry Jaso was actually their paper boy, and Jere and a girlfriend were the ones who dropped the St. Anthony quartet of "Golden Saints" off at the train station, when the four running backs were headed to Cal.
Stevens and Jere's teasing wasn't just directed at each other, however. The man who had introduced Jere to Dave Boss and the NFL Properties people was an alumni of Phoenix High, who Poly famously defeated 102-0 in 1919 for the Southwest Championship, a fact that the football-mad Wright couple used to kid him about. "I'm not sure he ever realized it was a true story," Jere laughs.
The family's pride in the logo is a still-living testament to the man who designed it. "Oh, I stop every person I see wearing something with the Bills logo on it," says Jere. "I always tell them, 'My husband designed that!'"
After retiring following two decades with the NFL, Jere says she doesn't watch a lot of football anymore. But you can be certain that when the Buffalo Bills take the field this year, she and Wright's children will be watching. As the Bills begin their 40th season, they'll do so wearing a logo that bears a little bit of Long Beach with it—and a whole lot of Stevens Wright.