Yesterday we counted down six of our thirteen favorite Sports Moments of 2013—today we pick it back up at No. 7. Be sure and come back later this week for the 14 things we're most looking forward to about 2014.
7- Poly Girls' Basketball States Their Case
Anyone who likes defensive basketball would have loved the Jackrabbits return to the state championship, where they locked down Berkeley High 46-28 for a Division 1 CIF State title. That set a new mark for fewest points allowed in a D1 final.
Berkeley had a legitimate scorer in Rachel Howard, but Poly's Arica Carter absolutely smothered her, holding her to 3-14 shooting.
After the game, Poly coach Buggs was asked how he felt his team had played, defensively. Before he could answer, a reporter mentioned that his team had just set a record. "Oh really?" he asked. "Then I guess we did pretty good."
Poly will try to make another run at glory in Sacramento this year.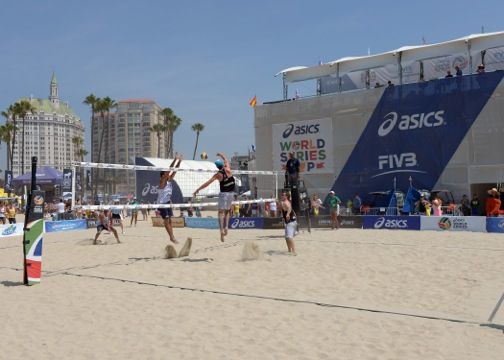 6- Eyes of the World Series of Beach Volleyball
The last time Long Beach hosted a major beach volleyball tournament it was the 2008 AVP stop when Olympic golden girls Misty May-Treanor and her partner Kerri Walsh Jennings stole the show and continued their record-breaking win streak. This year, the Long Beach sand played host to the World Series of Beach Volleyball and the eyes of the volleyball world were on us for a long week in July.
Along with a dozen courts and amateur tournaments, the ASICS World Series of Beach Volleyball featured the first Fédération Internationale de Volleyball (FIVB) sanctioned Grand Slam tournament in the United States since 2003. It also included the inaugural World Series Cup, a special competition that featured the top U.S. men's and women's teams competing against the best teams from around the world.
To add a cherry on top, Walsh Jennings returned from having her third child to join a new partner and compete internationally with an eye towards another run on Olympic sand in Rio.
"This is a world class event," said Walsh Jennings. "To come back for this was too good to be true… having it on NBC is huge."
The short time off did not quell her competitive fire. A packed center court crowd may have seen the match of the week for the women's World Series Cup semifinals when Walsh Jennings and partner Whitney Pavlik fell to Olympic sliver medalists Jennifer Kessy and April Ross in a dramatic three sets.
"I'm pissed," said Walsh Jennings after the match. The look on her face was one of a professional not used to losing.  "It was the little things that made the difference... (Pavlik) played well and if you give us a little time to get used to each other, we'll be great in no time."
5- Kendall Cooper Named All-American
Kendall Cooper offered up one of the most dominant performances in Long Beach girls' basketball history during a playoff game last year, when she had 25 points, 19 rebounds, and 13 blocks. Along with her success at the international level with the USA's youth teams, that's part of why it was no surprise that Cooper was named All-American.
She became the first ever St. Anthony girls' player to get the honor, and second overall in school history, with Darrick Martin. She's the first non-Poly girls player from Long Beach to receive the honor—and while she and her mother, Stephanie, were ecstatic at the news, they almost didn't get to save the memory of the announcement.
After there was an issue with the family DVR that was going to prevent her from recording, Stephanie improvised, turning the TV on and pointing a camcorder at it.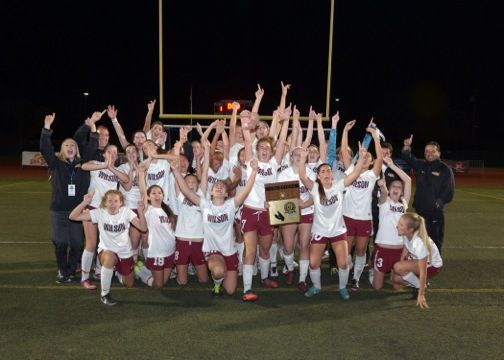 4- Wilson Girls' Soccer Wins CIF
It was a return to glory for the Bruins in 2013, starting with the return of head coach Dalton Kaufman. The Wilson grad was head coach of the Bruins from 1999-2004 and left his native Southern California in 2006 for the Arizona desert and a chance to be Director of Coaching for the Arizona Rush Club while also coaching for the Olympic Development Program.
Wilson took to Kaufman quickly when he returned and got big non-league wins before besting Poly and taking back the Moore League. After thumping Newbury Park 3-0 in the first round of the CIF Division 2 playoffs, Madi Grieve netted the winner at Canyon and Sami Reinhard scored a wonder goal at home to edge Santiago Canyon. The semifinal at Great Oak defined the playoff run as the Bruins chased the lead for the entire game and found themselves down two goals, twice, only to come back to equalize and win in penalty kicks thanks to a save from goalkeeper Samantha Moreno.
In the final, the Bruins showed the composure and maturity they gained during their playoff run and outplayed Sunny Hills for a 1-0 final win.
"I've wanted one of these for a long time," Kaufman said, holding the gold CIF plaque as his players streamed off the field. If it hadn't been for the 44th set up by Grieve and Sierra Skelly for Claire Oates to scrape it away from the goalkeeper and into the goal, the story wouldn't have been complete.
"That's what makes our team," said Grieve after the final. "That's our heart and soul, we're not a one man team." Grieve was one of the seniors on the team that remembered their loss in the CIF title game two years ago, a memory so painful it was still motivating to she and her teammates 24 months later. "The way Sunny Hills was after the game, that's the way we felt, and we didn't want that."
3- JP Crawford Goes to the Show
Lakewood shortstop JP Crawford was sitting in class early last May when he received this text message: You got invited.
It was from his father, Larry, and it meant that the whole Crawford family was going to New York, New York for the 2013 Major League Baseball First-Year Player Draft.
"I just started freaking out," said Crawford, who was the 16th player selected in the MLB Draft, taken by the Philadelphia Phillies.
The Phillies are getting used to drafting Lakewood Lancers after taking pitcher Shane Watson 40th overall last season. On the night of the 2013 Draft, Watson was pitching for the BlueClaws in the Class A South Atlantic League. The draft was on TV in the clubhouse and he tweeted, "JP is going 16th with me for the phillies."
Minutes later, dreams became reality and Watson, "started jumping and yelling," he laughed later that night.  "I mean, we played tee ball together when we were six years old, and know we're in the same MLB franchise… it still hasn't hit me.  What are the odds?"
The odds are even less that Crawford would do what he did when he reached the Gulf Coast League Phillies. In early August, they named him Player of the Week after he batted .417 with seven RBI and his first professional home run in seven games.  At that time, Crawford had reached safely in 11 of his last 12 games and led the Gulf Coast League in batting average (.377) and on-base percentage (.469) while only striking out 19 times and drawing 21 walks.
The fan blog The Good Phight has opened the competition for a Crawford nickname after his OPS percentage (on-base plus slugging) went over 1.000 with just the one home run and 11 extra base hits.
if Crawford performs well there, he could start next season at low-A Lakewood. No joke.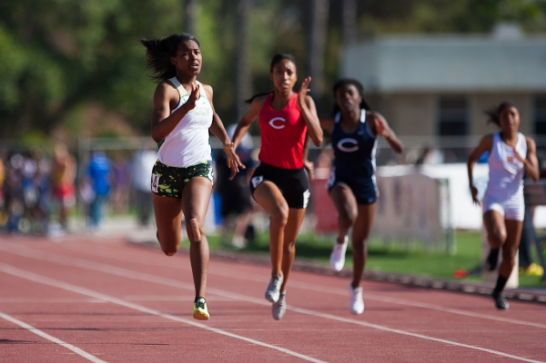 2- Hot, Hot History At Fresno For Ariana Washington, Poly Track
It was hot in Clovis at last year's CIF State track championship. The fans were turned up so loud in the open-air media tent that writers had to shout to be heard, and the Gatorade cooler full of icewater had to be refilled several times throughout Saturday's finals.
The Poly girls' track team was sizzling, too—not just their winning times, but the dominant way they rolled to a thirteenth state championship, and fifth in the last six years. Poly junior Ariana Washington had a lot to do with that, helping earn 30 of the school's 49 points. She won the 100 and 200 to defend her state championships in both, and anchored the winning 4x100 relay.
In doing so, she becomes the first ever Long Beach girls' athlete to win four individual state track & field titles, and is tied with Bryshon Nellum for most decorated track athlete out of Long Beach ever at the state level.
1- Long Beach State Sand Volleyball Nation's Best
"The team with no budget and no salaries and no scholarships, the team with no financial backing won. Isn't that great?" Brian Gimmillaro said of the Long Beach State sand volleyball team, and that's as good an introduction to the scrappy 2013 49ers as we'll ever be able to write.
The Long Beach State sand volleyball team of 2013 handed Pepperdine the Waves' first loss in the two-year history of the sport at the collegiate level, and in the process won the school's seventh ever team national championship, and first since 1998.
It was never easy: they beat Florida State 3-2 on day one, with the match coming down to the final pairing. The 49ers' returning All-Americans, Caitlin Ledoux and Tara Roenicke, pulled out a 17-15 deciding third set to clinch the victory, and put Long Beach State in the semifinals, where they met USC on Saturday morning.
This time, with the team match once again tied at 2-2, it was Lauren Minkel and Jocelyn Neely who had to get it done with a deuce third set, winning 15-13 to put Long Beach State back into the national championship—there, they would stage a rematch of 2012's national title tilt with Pepperdine.
It was Lauren Minkel and Jocelyn Neely who took the sand with the match tied, trying to clinch it. They won the first set but lost the second 21-9. After a hard-fought battle in the third, they found themselves ahead.
"Honestly, I was so focused that I didn't realize were up until I glanced at the table and saw it was 13-10," said Minkel.
Two points later, they made history, and our favorite moment from the world of Long Beach sports in 2013.