In a rarely visited corner of Long Beach Poly's century-old campus, a dusty mural tells a story. Catalina tile depicts Mercury, messenger of the gods, streaking across a starry sky, racing a DC-1 airplane, an M-10000 train, and the daylight. Beneath this tableau is a motto: "Speed is the greatest factor in modern life."
College classes have been taught about the mural. It was assembled in 1935, as part of the New Deal construction that took place on campus in the wake of the 1933 earthquake. The planes and train were the first commercial vehicles of their kind, steel machines whose quickness and accessibility were transforming the country, 80 years ago. The motto is bizarrely appropriate, as though the mural's anonymous artist could look into the school's future and see Dee Andrews and Willie Brown, see DeSean Jackson and Bryshon Nellum and Shalonda Soloman.
It's the middle of 5th period and the campus is quiet. The world's fastest teenager pauses beneath Mercury, and considers the inscription. She nods. "I like that."
***
Ariana Washington is fast.
She is, according to track experts, faster than any 16 year-old girl in history save for one. As of last Saturday, she is now the two-time defending state champion in both the 100 and 200, and she has already won more individual state championships than any other high school girls' track & field athlete to come out of Long Beach.
As a student at Prisk Elementary School, Washington got her first taste of the speed she'd later become known for—and she didn't like it. After beating the school's boys in a race, she was teased by her classmates. And so for a few years, Washington did everything else. She danced, she played volleyball and basketball, and she looked forward to perhaps becoming a cheerleader in high school.
It was in middle school, at Stanford, that her speed became impossible to ignore, with a series of accidents reminiscent of a superhero origin story. On the basketball court, she was barely able to control herself. "She was running into walls because she couldn't stop herself in time," says Jerry Naulls, her basketball coach in those years. Once, Washington was going for a loose ball and moved faster than she expected, sending her plowing into a teammate, breaking her friend's arm in the process.
She describes jumping for a rebound in the city championship her 7th grade year, and continuing to go up, and up. "I fell down after I landed, I startled myself," she says.
"We really didn't know she was fast until then," says Washington's mother, Euna. "It came to her."
***
It's the first race of the day in Clovis, at the 2013 CIF State Track meet. The first three legs of Poly's 4x100 girls' relay team are working hard, and by the time the baton has passed from Jade Lewis to Maya Perkins to Diamond Thomas, the Jackrabbits have a healthy lead in the sweltering 102 degree heat.
Ariana Washington takes the baton for the anchor leg, already cruising, and sprints well ahead of the pack. "Her teammates on that relay run their hearts out, because they believe in her," says their coach, Crystal Irving. "They want to put her out in front so she can really do her thing."
Washington motors to the finish, and the thing is done. Poly starts the day with a gold medal, lowering their season best to notch a new nation-leading time of 44.93.
***
To call Washington's sophomore season a breakout is a gross understatement. She had a headline-grabbing come-from-behind win on the world stage at the Penn Relays, propelling Poly to a gold over three top Jamaican teams. She doubled in the 100 and the 200 at the state championship, the first California girl to do that in her sophomore year since Marion Jones. She did all that, she admits, without really knowing how to run.
"It was pure speed," she says.
That speed really does seem to be a part of Washington, as though she's tapped into something. She talks fast, sometimes so fast she has to pause to catch up with herself. If she's talking to someone who's thinking too slow for her, she'll start to finish their sentences for them.
It's helped her in the classroom—she's a student in Poly's CIC academic magnet—and of course, on the track. "It's a gift from God," says her mother of Washington's speed. "Last year, her arms were flailing like a duck, but she was still winning."
"She's a freak of nature, to be honest," says Irving. "She has something that no one else has. Her potential is not known."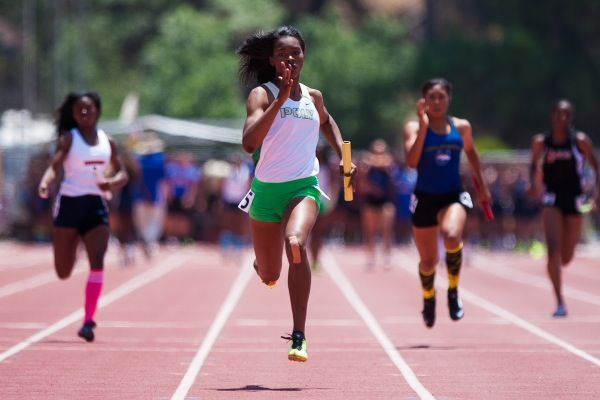 ***
Washington is lined up for the second time at State, trying to defend her California title in the 100. She isn't low enough in her drive phase, doesn't kick hard enough off the blocks—and it's a bad start. With 40 meters left, she's still in the pack. Reporters in the media tent on the opposite side of the stadium are on their feet.
"Where's Washington?" asks one, a note of concern in his voice.
As if on cue, she bursts out of the pack, pumping her legs to win with a time of 11.39, a full .23 seconds faster than the field. As she's given her gold medal, the PA refers to her by her nickname, "The Fastest Teenager in the World." Washington smiles and waves to the crowd of more than 8,000.
***
This year, during her junior season, the girl who was so fast she scared herself just a few years ago has gotten used to it. She collapsed into coach Don Norford's arms after winning two state titles last year, sobbing—this year, she cheerfully signs autographs for 30+ young girls during the state meet.
All year long, she loses to an American high school student just once in the 100 and the 200. She wins a national title at Arcadia, and puts the world on notice with a wind-aided time of 11.2 in the 100 at the CIF Finals, just .06 off of Marion Jones' national high school record. Every time she finishes a race, she's looking up into more and more cameras.
"I expected it to be lights, camera, action after last year, but it's gotten crazy," she says. "Media, colleges—my phone and my email have been blown up. It's been a whirlwind, and a little overwhelming at times. But I'm handling that."
This year of her life has been devoted to taking the gift she was given and adding even more of her own hard work to make something out of it, something her coaches say she's done successfully. "Speed is something I was born with," she says. "But the ability to refine it, to try and perfect it and add technique, that's something I've had to work hard for."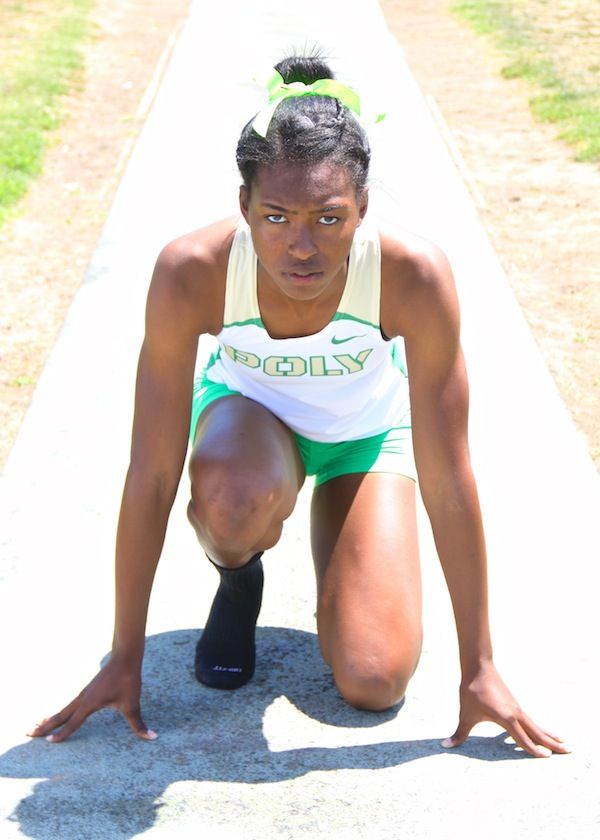 ***
The sun is going down on a hot, historic day at the State track meet, but by the time the 200 has started, it's already set on Washington's competition. She easily wins her second individual state title, the fourth of her young career, tying Bryshon Nellum for most individual titles of any Long Beach athlete ever.
After the race, she turns her head to show off a big red X on the back of her neck. She had a teammate draw it on with a red Sharpie, for two reasons: first, because everyone said all weekend she had a target on her back and she wanted to make her own. Second, to give the rest of the competition something to look at while they were trying to catch her.
"I thought it might make them mad," she said. "If they were mad, they'd run faster, and if they ran faster, I'd run faster and it might get me closer to that record."
***
Washington's future is so bright it's best not to look directly at it. Her times in the last month of the year have insured that cameras will follow her before, during, and after every race she runs next year, since she should contend to break Jones' national record in the 100, and Alyson Felix's record in the 200.
Heightening the excitement is the fact that she was running most of this year with an overuse injury, a strained tendon. "She wasn't 100% for almost the entire year," says Irving.
Washington has made it clear that she's setting her sights on history. "I want a record," she says of her senior season. "Not a meet record, not a school record—a national record."
Irving says she thinks it will happen. Coach Norford is excited, too. "She has the ability, she has the strength," he says. "Just watch her next year. Just watch her—you're going to see some fabulous things come out of that young woman."