In three seasons, Dan Monson and his senior-stacked Long Beach State team had been through a lot. Together, the coach and his four best players – including star guard Casper Ware – had won conference titles, Player of the Year and Coach of the Year awards, and come within a hair of the NCAA Tournament (twice).
But despite all the accolades and accomplishments, there was always one glaring omission. Until Wednesday night.
In just the second game of his fifth season at the helm of the 49ers, Dan Monson finally got the signature win that would put his program on the map, and mark his return to the mainstream coaching world.
It wasn't so much the 86-76 road win over No. 9-ranked Pittsburgh itself that should alert the college basketball world, but the way in which Monson's coaching chess moves so completely highlighted Long Beach's strengths, allowing his players to shine against a physically superior opponent.
After a convincing but unspectacular home win over Idaho to open the season, Monson made two key adjustments to the gameplan for Pitt.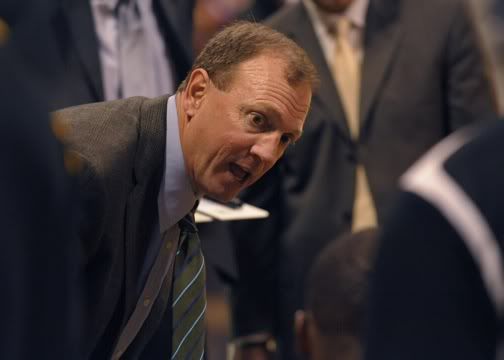 First, he tightened up his lineup. Monson relied on his starters and gave significant minutes to just two players off the bench, freshman guard Mike Caffey and senior forward Edis Dervisevic. At the risk of tiring them out, Monson pushed his best players to the limit when he sensed vulnerability. To keep them fresh, he substituted masterfully. 
Bringing in Caffey allowed Ware to shift to the off guard and focus on scoring, instead of running the offense and pressuring on defense. When Pitt began to creep closer late in the second half, Monson returned senior guard Larry Anderson for a big backcourt lineup and the 49ers pulled away.
Second, and most important, Monson employed a 1-2-2 zone defense that used the length of his guards to exploit passing lanes. This led to deflections, steals and rushed shots by Pitt, which led to Long Beach runs in transition where the athletic 49ers are at their best. 
At the head of the attack laid 6'7" James Ennis, a spindly super-athlete who had scored just six points in his only other D-I basketball game. As point man, Ennis frustrated Pitt guards and created one Panther mistake after another on his way to 19 points, 6 assists and 5 steals.
The new zone defense simultaneously neutralized Pittsburgh's size advantage and accelerated Long Beach's speed advantage. It was an impressive use of personnel, demonstrated complete knowledge of his players' abilities and paid dividends from tip-off to buzzer.
"In October when we saw [Ennis], we knew we had to dust that zone off and put him at the top of it," Monson said after the game. "It was more of players game, and the zone helped us switch things up a bit. It slowed [Pitt] down and changed the tempo."
For a mid-major program like Long Beach State, it was the kind of win that can make a season. It may already have (Long Beach had not beaten a ranked team since 1993). But when the buzzer sounded and the nation went Go Beach! gaga, Monson and the 49ers shook hands and walked calmly off the floor with a businesslike demeanor.
"The reaction after the game was the most pleasing thing to me," Monson said. "I think we can play better. I think we will play better, as long as they have that attitude and expect to win like they did."
This may have been the biggest win for Long Beach in nearly twenty years, but it may not be the biggest non-conference game they play before New Year's Day. In that span they'll face No. 8 Louisville, No. 12 Kansas, No. 1 North Carolina and No. 13 Xavier, not to mention the ultimate goal of earning an automatic bid to the NCAA Tournament in March. So the stone-faced message was clear: There is more work to be done, and there are bigger challenges ahead.
Long Beach fans everywhere, some die-hard and some just minutes old, celebrated the Pitt upset heartily. But the message of Dan Monson's defining victory is not that the 49ers surprised the nation. It is, rather, that there could be many more surprises in store.
"This team needs to get to the NCAA Tournament, and one win is not going to do that," Monson said. "We've got a lot of work left to do. I told them to enjoy it for 24 hours, but we're not going to watch one second of the tape of this game. When we meet Friday morning, the word 'Pittsburgh' is out of our vocabulary."
After all, this was a signature win.
Long Beach is after a signature season.